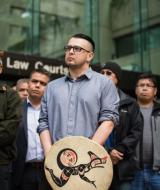 Ken was born and raised in Port Alberni in Tseshaht First Nation territory and has lived most of his life in the community. He is the eldest son of the late George Watts and his mother is Matilda Atleo(now married to Cliff Atleo). He has three beautiful children Tristan, Noelani and Kailand.
In 2007 Wahmeesh completed a Bachelor of Arts in First Nations Studies from Vancouver Island University and went on to become the BC Assembly of First Nations(BCAFN) Male Youth Representative where he also served as co-chair of the Assembly of First Nations(AFN) National Youth Council. During this time Ken was also employed with the BC Association of Aboriginal Friendship Centres(BCAAFC) coordinating a large aboriginal youth conference and supporting in youth and sports.
Upon returning home Ken was employed with West Coast Aquatic and then moved on to Operations Manager for the Tseshaht First Nation. Elected as Vice-President of the Nuu-chah-nulth Tribal Council(NTC) in 2012, Ken went on to serve the fourteen member First Nations for five years.
Wahmeesh is looking forward to serving the Tseshaht First Nation as a Council member with a focus on economic development, governance, land management and creating better working relationships with other governments and organizations.