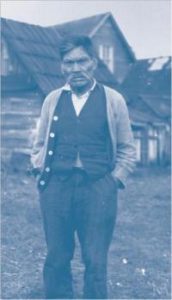 When he was alive Captain Bill had the head position of the Maktl7ii7ath, a position now inherited by his grandson Albert Clutesi. Between 1910 and 1914, Captain Bill was one of Edward Sapir's principal informants on Tseshaht history, and in 1911 gave a Tlookwaana, which Sapir documented.   Captain Bill provided information on many Tseshaht tutuupata, including:
Chaakwaasiqmik Gets Whaling Power from the Sharks
The use of two thunderbirds in an ?ooshta7aqstop ceremony
Nach'imwas?ath whaling rituals
?oosimich lore and song from both Nitinat and Nach'imwas?ath (Maqtl?ii?ath)
Four wedding wooing tutuupata of the thunder, lightning serpents, whale,sky cod, and moon, which also included fish trap dowries
How the Nitinats Get the Thunderbird and Lightning Snake
Captain Bill was the owner of the Thunderbird mask representing one of his own tupaati. Not just the mask itself, but the names, songs, and dances that were associated with it were his property. These prerogatives contributed to and reflected his position in Tseshaht society and ceremonial life.