On Friday June 16, 2023, after almost fours years in business, c̓išaaʔtḥ (Tseshaht) First Nation made the difficult decision to close Orange Bridge Cannabis, the first provincially licensed first nation-owned and operated retail cannabis store in British Columbia.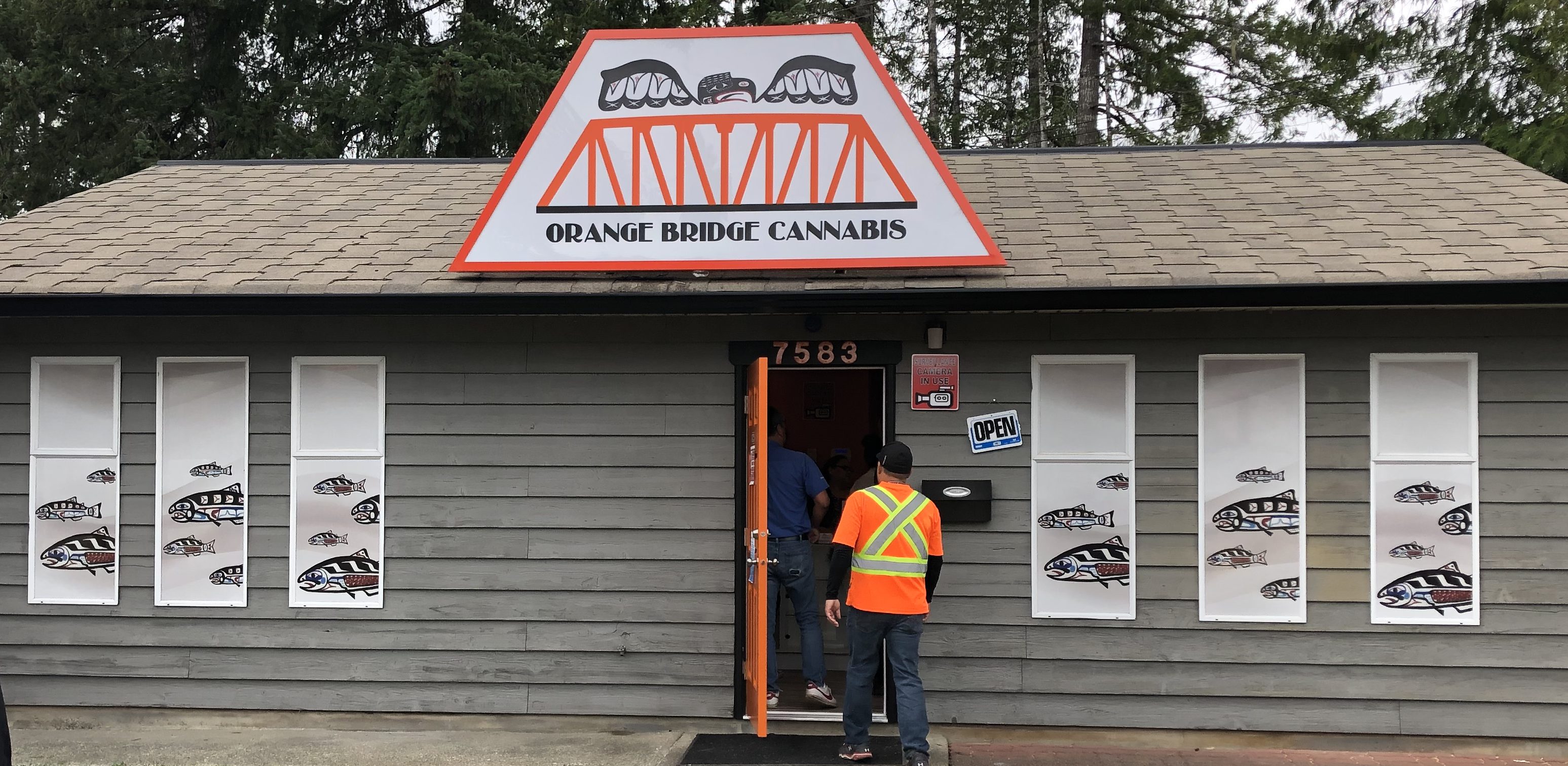 On September 11th, 2019, the Tseshaht First Nation celebrated the grand opening of their 100% owned and operated provincially licensed retail cannabis store, Orange Bridge Cannabis. Excitingly, this marks the first retail license for a First Nation on Vancouver Island, and possibly across BC. Orange Bridge Cannabis is ideally located on Highway 4 at the Tseshaht Market, enroute to Tofino and Ucluelet through our community.
Background
In 2018 the Tseshaht First Nation community directed the First Nation to explore the cannabis industry and bring representatives from the Province of BC, the Government of Canada, and the local government to share information on the newly regulated industry. Prior to the 2018 Christmas break, the Tseshaht First Nation had one of its most well-attended community meetings of the year (next to fisheries), and the community gave clear direction for the Nation to pursue options to enter the cannabis industry, examining both retail and cultivation opportunities and to take the necessary steps to successfully enter the industry .
"Orange Bridge Cannabis could not have been possible without our community direction and support. We would also like to acknowledge the tireless efforts of our administration, Council, consulting support from Purple Camas Consulting, financial support from Nuu-chah-nulth Economic Development Corporation and so many more. Today we celebrate, and every day we will continue towards our vision of economic self-sufficiency". -Cynthia Dick, Elected Chief Councillor
The Opportunity
Over one million people a year drive directly through Tseshaht territory, passing through our Indian Reserve (IR) #1. Our Nation-owned gas station at the Tseshaht Market has had excellent economic success and we are confident that Orange Bridge Cannabis will do the same, contributing positively to our economy though sales and employment. Our licensed store on the western outskirts of Port Alberni, is the last store for the next 120km heading to the West Coast and the incredibly popular tourist destinations of Tofino and Ucluelet. As an on-reserve business, status Indians will be tax exempt for purchases at Orange Bridge Cannabis.
"Our community has been patiently waiting for our First Nation to open more businesses along the highway since we first built our Tseshaht Market several decades ago, today they can celebrate this new economic opportunity." –Ken Watts, Elected Council Member
With the legalization of cannabis across Canada, many visitors, tourists, local residents, and First Nations citizens (including Elders) now utilize cannabis not only for recreational purposes but to assist with ailments and pain relief. Once topical and edible cannabis products are slated to be legalized in late 2019, these new products will not only help the Nation economically, but also provide additional use options for many customers.
License or Assert Sovereign Rights?
Tseshaht weighed all options regarding the assertion of our rights in applying for a provincial license or acting outside the provincial regime. This is a very important question for First Nations to ask, and it was not an easy one for our community to answer. Financing was one of the biggest contributing factors in influencing our decision to pursue a BC retail license, as financing through the NEDC, which allowed total Tseshaht ownership, required following the licensed route. Other factors also came into play, as it was determined that acting outside the Provincial regulatory framework might jeopardize future involvement in the industry, especially as we grow our business to include cultivation. Though we understand and support Nations who follow the assertion route, we do not think that acting outside the Crown's current regulatory regime is in the best interests of our community at this point in time.
Grey Market and Provincial Store
The Tseshaht First Nation Elected Chief and Council hope that the provincial government takes swift action on provincially unlicensed stores within Tseshaht's territory. The Province of BC needs to continue their efforts of supporting locally owned and operated businesses and we hoped that they would reconsider opening a provincial retail cannabis store in Port Alberni as the store is a direct competitor to Orange Bridge Cannabis. While we made a decision to enter this industry and process, some question how others within our territory are able to operate without a provincial license while we had to jump through many hoops to obtain our license.
"While some First Nations may question our desire to apply for a license, this was the route our First Nation ultimately decided to pursue. We are not strangers to asserting our Aboriginal Rights and will continue to do so when we feel it is necessary. But we believe Tseshaht has shown our commitment to working hand-in-hand with the BC government as we can be one of the biggest economic drivers of Port Alberni, in this region and across Vancouver Island". -Ken Watts, Elected Council member
Consultant Support
The Tseshaht First Nation Elected Chief and Council and administration have been very happy to work with Purple Camas Consulting to help Tseshaht navigate through the provincial licensing system and to provide important advisory services for the start-up of Orange Bridge Cannabis. Purple Camas Consulting has been instrumental in our successes with this project thus far.
The Name
Orange Bridge Cannabis was a name recommended by Tseshaht Elected Councillor, Melanie Cranmer. For those who are not aware, the large "grey" bridge that you cross over before entering Tseshaht Indian Reserve (IR) #1 is historically known as the "orange bridge," as it was previously painted orange.
The Logo
Willard Gallic Jr., a Tseshaht member provided the Tseshaht First Nation with a logo for Orange Bridge Cannabis.
The Future
As profits increase and the opportunities increase, Tseshaht will eventually move into the cultivation of cannabis as the community directed our Nation to enter the industry in retail, which is why we celebrate today, and in cultivation which will be a huge economic driver for our Nation in the future.
"Tseshaht First Nation appreciates the ongoing support that we receive from other Nations and would like to extend our support in any way we can. We are willing to share our story and experiences of this process as more First Nations become active participants in this industry". -Cynthia Dick, Elected Chief Councillor
For more information from the Tseshaht First Nation, please contact:
Ken Watts, Elected Councillor 250.720.6100