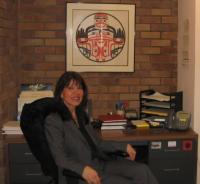 Dr. Charlotte Coté is the daughter of Jack and Evelyn Georg and the granddaughter of Hughie and Grace Watts.  Dr. Coté was born and raised on the Tseshaht reserve and is the first Nuu-chah-nulth woman and the second Nuu-chah-nulth person to attain a Ph.D. She achieved her doctorate at the University of California at Berkeley and presently lives in Seattle where she is an Associate Professor of American Indian Studies at the University of Washington. In 2010 she published her first book:  Spirits of Our Whaling Ancestors. Revitalizing Makah and Nuu-chah-nulth Traditions.
Dr. Coté was inspired by a quote she read many years ago:
"To accomplish great things, we must not only act, but also dream; not only plan, but also believe. The future belongs to those who believe in the beauty of their dreams."
To our Tseshaht youth, Dr. Coté says, "Be proud of who you are as you are the continuation of our ancestors. I encourage you to pursue higher education and build self-confidence and self-esteem with the knowledge you receive from your elders and from academe. With dedication and determination you can achieve anything you endeavor to do. Don't ever stop dreaming and don't ever stop reaching for the stars."
Dr. Coté is a nuchak (proud) Tseshaht woman and attributes her accomplishments to the support and love she receives from her family and community. The love and  respect she has for her family inspired her to tlulh silh a, to do something good with her life. Dr. Coté became an educator so that she could help foster a welcoming and supportive learning  environment for Native students and contribute to the better  understanding of Native peoples, cultures, and histories. She continually strives to empower her students to realize their full potentials.
The Tseshaht First Nation is very proud of Charlotte as the first Nuu-chah-nulth women to attain a Ph.D. and teach as a University Professor as she continues to be a huge role model for our community.