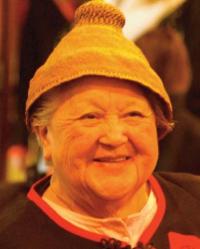 Kathy Robinson also goes by the name of ʔuʔaałukʷis
Kathy Gallic was born on a windy day in the Broken Group Islands of Barclay Sound, home to many tribes of nuuchahnulth. She lived in a longhouse where everyone spoke their language, worked hard all day and taught all the traditional practices needed to keep their living culture intact. Their summer and winter homes provided shelter when traveling with food resources called "Seasonal Rounds." Potlatches were schooling for songs, dances and tradition.
Her family moved to Port Alberni when a law passed that all First Nations' children must attend a system called the residential school. Despite punishment for speaking her language, Kathy kept her fluency and remained culturally rooted. She married Doug Robinson at 16 and they had 12 children together, eventually adding 22 grandchildren and 25 great grandchildren.
In the early 60s, she began picking up the Elders from her community and taking them to her home. Her daughters cooked, baked and fed the Elders, who in turn, taught her and her children the protocols of dancing and singing along with many traditions.
Where most people were looking at their retirement years, at 50, Kathy began working at the brand new ḥaaḥuupay̓ak Elementary School with Carrie Little (ʕaaḥuusʔatḥ).   Kathy worked at the school for over 18 years, leaving a rich curriculum, protocols for traditional use and also composed prayers for the children. She is always just one call away for the Nuuchahnulth Studies teachers and is the first to say, "I'm not sure, I will ask my Elders."
In her late 60s, Kathy formed a company called nuučaan'uł iic c̓ic̓iqii "Language belonging to the nuuchahnulth," documenting the language with Carrie Little. They typed language using a special typewriter ball with unique phonetic symbols.
Kathy was instrumental in the success of a children's dance group called the Animal Kingdom. It was her teachings and knowledge of the protocols needed that empowered the children's performance.
She will never take credit for what she knows—she always thanks her late teachers, including her parents, Jimmy and Jessie Gallic, Cecelia Williams, Weenuck, Bessie Dick, Chief Adam and Margaret Shewish, Mable Taylor, Mable Yukum, Billy Yukum, George Clutesi, Jacob Gallic and many more.
Kathy is always reminding people: "Don't bring flowers when we're dead, bring them to us while we are alive!"