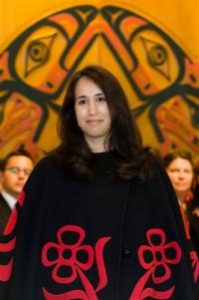 Uushtaqyu Arianna Louise Watts was born in Timmins, Ontario. Her father Wallace Watts (Nagedzi) and mother Laurie were living there in hopes that his job as a pilot of small planes to remote communities would one day turn into a commercial captain position of a Boeing 747 (It did!). When her parents divorced, she lived with her American mother and siblings in the States. Fortunate to have a pilot as her father who was very involved and wanted her to know her Nuu-chah-nulth and Gitsxan heritage, Arianna made trips to Vancouver and Port Alberni as often as possible to visit family, work with family, and ultimately learn more about herself through her relatives. She is a descendant of Chief Harry Mountain from Alert Bay, the great granddaughter of the late Louisa Watts (Hei-ta'ah), and granddaughter of Dolly Watts (McRae) (from Kitwanga, BC) and Tom Watts of Port Alberni.
After finishing high school, Arianna went on scholarship to the University of Florida and with an interest in natural medicines, completed a Bachelors of Science in Botany in addition to premedical requirements. She had a great time in university but at the end when presented with the choice to further her  education by becoming either a researcher or a medical doctor, decided to leave it in the hands of Naas (the creator). She applied to the University of British Columbia medical school and was accepted! In 2011, she was able to celebrate her accomplishments as Doctor Arianna Watts with her very proud family. After graduating from medical school, all doctors must choose a specialty, and she chose Family Medicine. She is currently in the family medicine residency program in Edmonton, Alberta working for Alberta Health Services and hopes to eventually open her own clinic.
She credits her success to the creator who allowed her to overcome many difficulties during medical school while becoming stronger, more determined, and ever more thankful throughout. She also credits her success to her family. There were many family members who were role models to her growing up. Her grandparents overcame residential school and went on to excel in their careers. Her father grew up on the Tseshaht reserve and became a pilot, growing up in a time when there was allot of racism towards First Nations. He excelled in what he put his mind to do and he raised her to believe she could do the same. She also owes allot of her success to Nuu-chah-nulth Tribal Council for all of the financial educational support. She may have never applied to medical school    because at the beginning the costs seemed too big to manage. She may have said that she would wait 4 or 5 years and save up, and then she may have lost the chance…She is incredibly thankful that there were people at NTC always cheering for her, encouraging her and believing in her. Having the support of her own community was an incredibly empowering feeling that pushed her through some difficult times and she very much appreciated her relationship with her Post secondary advisors at NTC over the years Maria Gomez and Holly Massop.
Her advice for future generations is to find a mentor. We live in such a busy world that it can become difficult to remember why you are working so hard for something that can take so much time before seeing the final outcome. Find someone who has been through that and learn from them. Learn patience, learn forgiveness, and always be proud of your culture!
The Tseshaht First Nation is very proud of Arianna for being the very first Tseshaht and very first Nuu-chah-nulth medical doctor as she continues to be a huge role model for our community