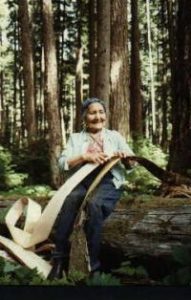 1901-1984
She lived much of her life at Polly's Point (Tee-pis).  She was originally from Ditidaht. She was married to the late Roy Taylor and was the last person of her generation to live at Polly's Point, choosing to stay on her own in the house built by her husband.
Mable was a renowned basket-maker, and her baskets are in museums and private collections throughout the world. She was also a teacher of this art form. She taught many other ladies how to weave baskets, and how and where to collect the grasses and cedar bark needed for weaving. The ladies that she taught, and other people who visited her at her home, always enjoyed Mable's stories and her won­derful sense of humor.
Mable was often approached for advice and information regarding the Native culture, in such matters as songs, dances, prayers, and names that were used at potlatches and other ceremonies. She knew much about her people's history.
She was also often asked to prepare and smoke fish by people, which she would do in her smokehouse in front of her home.
Mable appeared in an historical film that was made in Port Alberni In 1951. Her picture was in several books including the cover of one, "Indian Artists at Work".
d stclaire remembers mable taylor 18 February 6, 1986 Pg 18.pdf