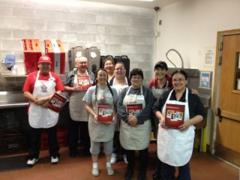 This department provides membership requiring crisis care support services by providing Tseshaht with community based contact for the handling of crisis care situations.
Crisis and Wellness Care are supported by working closely with USMA and the Ministry of children and Families, Court Services, NTC  Mental health Women's resources and the Recreation department.
By working proactively we can address crisis care support needs by promoting positive lifestyle alternatives which contributes to a healthy community.
By coordinating events workshops, activities and anything that promotes wellness and contributes to the memberships well being, this department works closely with all members in the community.
Wellness Programs include: a new fully equipped workout room, a new family center (under construction), various language and cultural classes and much more.
For more information, please contact:
Gail K. Gus, Community Crisis Care & Wellness Coordinator
Phone: 250.724.1225
Fax: 250.724.4385
Address: 5091 Tsuma-as Drive
Port Alberni, BC  V9Y 8X9
For contact information for Youth Services in and around the Alberni Valley, please see our Alberni Community Youth Services page.
For filing a complaint with the College of Physicians and Surgeons of BC, please see this Complaint Form.