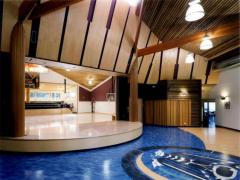 This department focuses on the delivery of education services to Tseshaht members and supports the goals of the Tseshaht First Nation and the Education Committee's mandates, including pursuing jurisdiction over education in conjunction with the First Nation Education Steering Committee (FNESC).
Coordinating the delivery of education services in accordance with educational program objectives for service delivery and First Nations education jurisdiction. This department administers unique educational services and programs to Tseshaht students and provides personal and academic counselling.
As the Tseshaht First Nation's Administration Office's resource for education programs this department is active in promoting and developing membership and community involvement in educational programs. This department works closely with a variety of Schools and Community venues to offer educational programs and employment training alternatives.
School Supplies & Clothing Allowance – form
Haahuupayak School
For more information about our school please click here:
First Nations Education Jurisdiction
Introduction to Jurisdiction
(Information taken from First Nations Education Steering Committee/FNESC Jurisdiction page: here)
What is First Nations jurisdiction over education?
Jurisdiction over education is formal recognition, through signed Agreements, by the federal and provincial governments of a First Nation's right to make decisions about the education of its children. BC First Nations have been seeking recognition of their jurisdiction over education for decades.
Important Links
2011 Reporting Form for Allocation Funding
Reciprocal Tuition
First Nations Jurisdiction Over Education – (Key Documents)
Overview of the Jurisdiction Agreements
Education Jurisdiction Presentation (March 2009)
Background
First Nations have been seeking the recognition of their jurisdiction over the education of their learners for over 30 years. Relevant efforts in that regard have included significant research, community consultations, negotiations, and lobbying.
That work has resulted in significant success in British Columbia (BC), and on July 5, 2006, the First Nations Education Steering Committee (FNESC), Canada, and the Province of British Columbia (BC) signed a package of agreements to recognize the jurisdiction of BC First Nations over K-12 education on-reserve. The package of agreements that was negotiated includes an overarching Framework Agreement that lays out the responsibilities of each party, which was confirmed with the passage of federal legislation (completed on December 12, 2006) and provincial legislation (completed in November 2007). The other agreements included in the package are the template Canada-First Nations Education Jurisdiction Agreement (CFNEJA) and template Funding Agreement, and the BC-FNESC Education Jurisdiction Agreement.
The BC jurisdiction negotiations involve 63 First Nations who submitted Letters of Intent to become Interested First Nations (IFNs). IFNs are defined as those Nations that intend to negotiate CFNEJAs and ultimately become a Participating First Nation.
In 2006, the IFNs met and determined a process for moving forward with capacity building and with the negotiation of individual CFNEJAs. At that time, the IFNs discussed two possible approaches: working individually or continuing to work together. The First Nations elected to continue to work together, as they saw value in sharing their knowledge, creating economies-of-scale, and collectively working toward capacity building. The side menu includes information on the status of negotiations.
Scope
First Nations subscribe to the philosophy of lifelong learning and in BC that is the approach being taken towards education jurisdiction. However, it has been agreed that there will be a phased approach to education jurisdiction negotiations beginning with the K-12 system and then moving on to early childhood development and post-secondary programming.
The initial phase is the jurisdiction over on-reserve, K-12 First Nations schools and it will serve as an important stepping stone to achieving increased education success for First Nations learners. First Nations have worked with BC to facilitate increased influence on the education of their learners in the public education system.
The framework has been designed so that each First Nation in BC will be required to formally opt into the agreement if they so choose.
Consultations
Throughout all of its efforts to pursue jurisdiction, FNESC has been fully committed to consultations with First Nations representatives. Specifically, FNESC facilitated two provincial meetings to describe the progress of the jurisdiction negotiations; one in December 2004 and one in February 2005. These information sessions were used to update First Nations on progress to date and to gain input from First Nations on the proposed frameworks for the assumption of jurisdiction.
With the initialling of the package of agreements in November 2005, the stage is set for First Nations to begin to build the capacity to exercise jurisdiction. To facilitate improved training to communities FNESC, is providing training to community members to become community champions. These people will then be available as resource people. The federal government is hoping to recommend enabling legislation to the legislature for approval in the fall of 2006.
The matter of funding for jurisdiction is still under discussion, however, First Nations are clear that without adequate funding the Agreements are defunct.
First Nations who indicate their intention to become Participating First Nations (PFNs) will have done so subject to the acquisition of adequate funding. Should adequate funding not be secured they will not be legally bound to participate and a final agreement will not be signed.
First Nations have requested that a process be made available in which they could express their interest in being a participating First Nation for exercising jurisdiction and authority over education. If your community is interested in participating, click here.
Areas that have been negotiated include the following:
Credentialing (or the ability of First Nations schools to grant a recognized graduation certificate that is equivalent to the Dogwood Diploma)
First Nations school certification (as per the current First Nations Schools Association process)
Teacher certification
The structure and role for Community Education Authorities
The structure and role for FNESC with respect to education jurisdiction
Negotiating Team
Nathan Matthew, Jurisdiction Negotiator
Christa Williams, Jurisdiction Negotiator
Martin Watts, Tseshaht First Nation Jurisdiction Negotiator
Jan Haugen, First Nations Education Steering Committee
Nancy Morgan, Lawyer
Debbie Jeffrey, First Nations Education Steering Committee
Links: 
First Nations Education Steering Committee (FNESC)
Haahuupayak Elementary School (HHP)
NTC Elementary-Secondary Education
For more information, please contact:
Wendy Gallic, Community Services Manager
Phone:250.724.1225 ext.217
Fax: 250.724.4385
Address: 5091 Tsuma-as Drive
Port Alberni, BC  V9Y 8X9