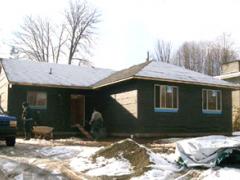 The Tseshaht First Nation Housing Program works with community members on Band Owned/Social Development Housing, Individual Homeowners, Elders and Disability and other types of housing.
While maintaining respectful relationships with tenants the housing department works cooperatively to collect monthly rent, conduct repairs and maintenance in a timely manner to ensure longevity of housing assets. We also assist members to receive funding for renovations, the housing department is a dedicated group of individuals who assist in improving the quality of life for all Tseshaht members.
Current Housing availability:
We do not have any further units currently available.
Current Housing stats are:
1 – Band Owned Home
65 – Section 95 Social Housing Units
157 – Individual Homes Owners
Some helpful forms and information:
APPENDIX C – Housing Application
Pet request
Housing Policy – September 10 2012
Facts about Bed Bugs – September 2018
Maintenance Request Repair form
Renovation Request Form
Request for additional occupant or occupant change application 2018
APPENDIX E – Request for Appeal
Home Insurance Guide
Housing Types
ECAP Indigenous Community
ECAP Application Form
FAQs
Fire Smart Begins at Home
Some highlights include:
Aggressive use and increase in RRAP and Renovations
Built strong relationships and credibility with CMHC
Invested in renovating community homes with Canada Economic Action Plan funding
Housing Program-Recognized with AFOA award for Best Practices
Progressive Housing Policy
Organizations, Agencies and Nations recognizing Tseshaht as a model of best practices, requesting copies of our policy and invitations to speak at conferences
53 New Homes Constructed since 2008
34 Homes received RRAPs, under CMHC Funding Programs
14 Homes received renovations under CEAP Program
For more information, please contact:
Paula Watts, Housing Manager
Phone: 250.724.1225
Fax: 250.724.4385
Address: 5091 Tsuma-as Drive
Port Alberni, BC  V9Y 8X9